Quality Christmas Food Hamper
Details of Contents: Ardens Green & Black Olive Twists 100g Barfield Bakery Mince Pies x 4 Border Divinely Chocolatey Cookies 150g Brown Bag Crisps Smoked Bacon Crisps 150g Crunch Craving Spicy Peanuts 85g Edinburgh Tea & Coffee Company Medium Roast Coffee 113g Farmhouse Biscuits Luxury Sticky Toffee Pudding Butter Biscuits 150g Lily O'Briens Sticky Toffee Chocolates 110g Linden Lady Handmade Fudge 115g Oloves Chili & Garlic Ripe Black Pitted Olives 30g Merlot Rio Rica Central Valley Chile 75cl 13% vol Sauvignon Blanc Rio Rica Central Valley Chile 75cl 12.5% vol Simpkins Festive Fruit Drops 200g STAS Milk Chocolate Bauble 75g The English Provender Co. Plum & Bramley Apple Chutney 300g The Original Cake Company Top Iced Slab Cake Yorkshire Popcorn Salt & Sweet Popcorn 40g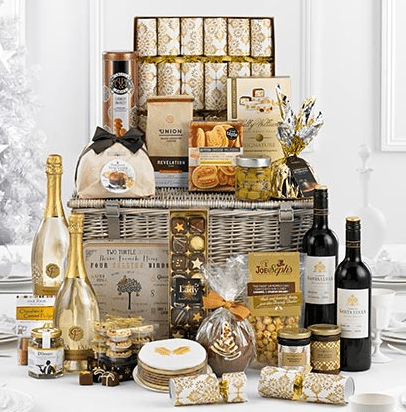 Dinner for Two at Prezzo
A £50.00 voucher to spend on a meal of your choice at any Prezzo Restaurant.

To Enter: Complete the Form Below
Enter your name in the box below marked "Your Name".

Enter your email address in the box marked "Your Email".

In the box marked "Your Message" write …Christmas Prize Draw.

Click "Send".
Please note: Winners will be contacted via email.  Therefore it is important that your email address below is correct.
The Closing Date for entry in this Christmas Prize Draw is midnight on Sunday 10th December 2017.
The Winner will be announced and informed on Thursday 14th December 2017.
The Prizes will be dispatched to the Winners no later than the 19th December 2017.
Where a Winner fails to answer an email notifying them of their winnings by midnight on the 18th December 2017, their failure will result in their disqualification.
In this and all other Deal Locator Competitions, Prizes and Surveys, entry is subject to the Competition Rules which are the relevant Terms and Conditions.
Deal Locators is all about Deals and provides Deals on many different items and services.  Find the Deal that you are looking for!
We find the Deals so You get the Rewards